Our last blog post stated the Enrollment Manager's Pledge: "Do What is Best for the Students." In the online world of higher education, this pledge is essential for student services. Enrollment Builders has become partners with the Center for Transforming Student Services (CENTSS) to help institutions focus on their delivery of online student services. We promote the use of their tool to audit the delivery of online student services because it helps institutions identify gaps in service and if the available online services are employee centric or student centric.
What is CENTSS?
The CENTSS audit was developed to help institutions focus on the role Web-based technologies have increasing played in the delivery of online student services in higher education. The CENTSS audits were developed by Pat Shea and Darlene Burrnet, with the cooperation of the Minnesota System of Colleges and Universities (MnSCU) and Seward, Inc. (Barnhart, 2011).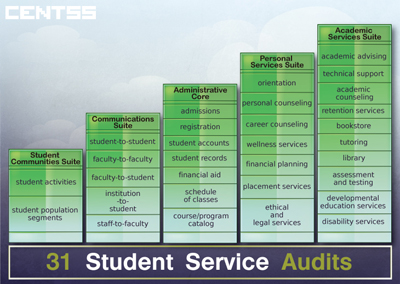 The CENTSS audits are composed of 31 individual student service area audits. Institutions using the audits create teams of administrative and student service professionals to examine the 31 respective service areas. Average team size varies based on the size of the institution and desired level of participation. Team members are asked to respond to 8-20 questions per service area. These questions are called "critical components." Audit questions are to be responded to by individual team members through a student perspective – What do the students experience? There are over 200 critical components associated to the combined 31 student service areas. The 31 student service areas are grouped in categories of: Academic Service Suite, Administrative Core, Personal Service Suite, and Student Communities Suite.
Examples of the type of student-centered questions that form the "critical components" for academic advising and academic counseling, found in the Academic Services Suite, are as follows:
Learn about my advisor
Schedule an appointment with my advisor
Run a degree audit
Access helpful resources such as publications, presentations, tips, and links to other sources of assistance.
Institutional team members select one of five possible descriptors to describe the student's Web experience for each individual critical component. The five descriptors reflect a specific level of sophistication as defined by the CENTSS model. In the CENTSS model, these five levels are referred to as "generations." Generation 1 represents the lowest level of Web-based technological sophistication and Generation 5 the highest. Brief descriptions of the five generations are:
Generation 1: Service is not provided on website
Generation 2: Informational, internal focus on institution
Generation 3: Informational, audience focused (prospective students' link, enrolled students' link, etc.)
Generation 4: Process oriented - customized community, personalized, portal
Generation 5: Virtual mentor – process orientation, and decision making guide
Conceptualizing the CENTSS Generations
One way to consider the progression from generation 1 to 5 is to categorize the five definitions into three distinct groups. Generation 1 is self-explanatory; the service is not available on the Web. Generations 2 and 3 are Web pages that contain information, presented mostly in text, pertinent about the institution. Sometimes written for specific audiences, but containing little interactivity for the user, Generation 2 and 3 offer minimal interactions with databases or communication beyond listings of telephone numbers, e-mail address or Web-forms for institutional contacts. It is not until one reaches Generations 4 and 5 that Web page delivery becomes a student-centric portal environment. Generations 4 and 5 are portal environments because students have access to personal accounts that rest upon databases and contain multiple channels to communicate with other students or individuals at the institutions. Major differences between Generations 4 and 5 have to do with the level of technological integration that occurs on the institutions or system's technology environment back-end, greater use of integrated communications and single sign on technology verses a multiple login to various systems.
Online Banking and the Student Service Experience
Another way to conceptualize the difference between Generation 4 and 5 is to draw on one's Internet banking experience. Imagine if you had to log in and out of your account every time you wanted to review and move from your checking to savings to a car loan accounts. This is similar to the experience students have at Generation 4: the information is still their own personal accounts or records, but it is not integrated. With a Generation 5 Web-banking experience, all accounts are integrated with most banks providing a number or tools to assist in financial planning and access to online help through a variety of communication tools.
These distinctions can be shown as they relate to one selected critical component; "As a student, I can find information about my institution's academic advising services, including philosophy and roles and responsibilities." The five generational choices the team would be asked to select one from that best represent a view the students would experience are presented below.
Generation 1: Student cannot find information or services on the Web site.
Generation 2: View general information about the institution's academic advising services, along with its general philosophy and the roles and responsibilities of students and advisors.
Generation 3: Link to the institution's description of academic advising services, including the philosophy and roles and responsibilities for the type of student I am (e.g., freshman, transfer, graduate student).
Generation 4: Log in to MyAccount and link to information about the institution's academic advising services, along with its philosophy and roles and responsibilities relevant to me.
Generation 5: Receive a welcome message introducing the institution's academic advising services, including the philosophy and roles and responsibilities relevant to me, along with a link to an online form for more information or assistance.
Using your CENTSS Results
Lead by the Ohio Learning Network, in 2010, the majority (75%) of Ohio's public two- and four-year institutions participated in the Center for Transforming Student Service (CENTSS) audits. In general, most student services tended to be at a Generational 3 level. Of those services that were at a Generation 4 level, most were associated with institutions' student information systems or learning management systems. An example of a major change brought about by the audit is with tutoring. For participating Ohio institutions, the average score across all seven questions related to tutoring in the audit was a Generation 2. With these results, The Ohio Learning Network initiated the statewide adoption of the Connecticut Distance Learning eTutoring program. Between 2009 an 2011, over 18 Ohio institutions adopted eTutoring, raising their average for tutoring to a Generation 4 service level.
Knowing the sophistication level of your on-line delivery of student services is critical to the success of your online programs. The CENTSS audit results and consulting services from Enrollment Builders can help institutions strategically identify which services areas are their strengths and which ones need to be improved in order to provide the student-centric student experience necessary to manage successful programs.
Give us a call at 513-518-7824 or request information if you would like to learn more about the CENTSS audit and how we can help you order it, administer it, and interpret the results.
Barnhart, J. (2011). The virtual worlds of student services: Evolving practices for engagement and student success, NASPA Leadership Exchange, Winter, 2011, 30-49.
Steele, G.E. & Thurmond, K.C. (2009). Academic Advising in the virtual university. In K Meyer (Ed.) Lesson Learned from Virtual Universities, (pp. 85-96). New Directions for Higher Education, 46.