The Top 5 Differences Between Traditional and Online Student Recruitment
Enrollment Builders received a phone call last week from a prospective client that is relatively new to online enrollment management. While we were having a nice conversation about the similarities and differences between traditional and online student recruitment it struck me that this would be a good blog topic.
So here are the Enrollment Builders Top 5 differences between traditional and online student recruitment:
1. Performance Marketing - The use of paid search or cost-per-click (CPC), display advertising with banner ads (CPM), and cost per lead (CPL) through search engines and marketing partners makes it much easier from a marketing perspective. With these various tools enrollment managers can determine which properties generate the most inquiries, and with proper tracking it is not hard to calculate the cost to obtain an application or an enrolled student from various sources.
With most initiatives for traditional, campus-based programs it is difficult to tell just how effective the radio, TV, or billboard campaign was at generating interest because it is hard to track these inquiries. While direct mail campaigns can be effective with clever codes on print pieces and with the use of personalized websites (pURLs) for students to respond, it is no match for the ability to track and measure effectiveness of performance marketing.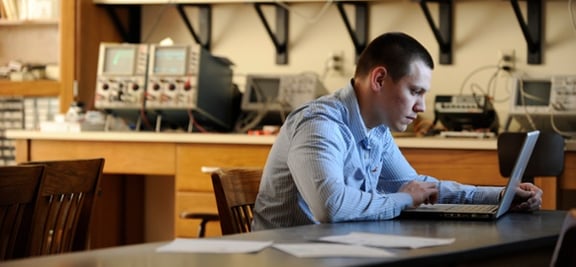 2. Inquiry Response - Prospective online students are used to obtaining the information they seek relatively quickly. Therefore, it is really important to have an informative website with simple navigation; interactive features like chat; and to have someone answer the phone if the student calls. Most importantly, if a prospective student completes an inquiry form on your site or on the site of one of your marketing partners you had better respond within minutes or hours. If you don't there is a good chance that someone else will.
Traditional students need and like to visit campus before they decide, and they judge how much they like the institution by the campus and fit with students, faculty and staff. For online learners the website is the campus, and the recruiter who responds promptly to their inquiry is the most important person on your team.
3. College Choice Set - Most traditional-aged learners who are deciding on a college consider ten or more schools, visit about five, and seriously consider three or more. Meanwhile, since most online learners are returning to school to finish a degree or are considering a convenient graduate program, they have been trough the college search and selection process at least once before. Consequently, they are pretty sure about what they want; they typically consider less than five online schools and narrow their choice down to one or two relatively quickly.
4. Enrollment Cycle - Typically, online programs enroll students six to twelve times per year while traditional programs typically enroll new students two to four times per year. As an online enrollment manager you have to be prepared for a faster pace, shorted recruitment cycles, and an a quicker burn-out of your front-line recruiters.
5. The Buying Committee - It has been said that with traditional student recruitment you have to make sure that you sell safety and academic quality to the Mom, value and affordability to the Dad, and extracurricular activities to the student. However, the influencers for online learners are usually spouses, children, bosses, co-workers, and friends.
Good admissions professionals will determine who is helping the student make the decision and what the critical considerations might be, regardless of the type of student. Just don't expect it to be the parents being concerned about campus safety for online learners. Instead it is probably going to be the three C's. No, not cut , clarity, and carat weight. The three C's for online and adult learners are cost, convenience, and time to completion.
Jennifer Goode