How to Dramatically Increase Admissions Conversations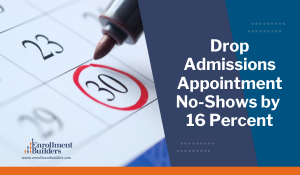 Your higher ed admissions team has an appointment scheduled with an interested prospective student … now what?
Will the prospective student answer the call when the appointment time rolls around? Does the prospective student understand the importance of the call? Does the prospective student recognize that this call will help them determine if the institution is a right fit?
Many teams simply wait for the scheduled appointment time, perhaps automating a few reminder emails, while hoping for the best.
The reality is that your higher ed admissions team likely spends a few hundred dollars in marketing and admissions resources—not to mention marketing spend—just generating the opportunity to speak directly with a prospective student.
What's worse is that most institutions lose 26% of their interested prospective students at this exact stage. That's right! On average, 26% of scheduled appointments do not answer the call when at the appointment time!
These lost opportunities have a dramatic effect on application yield.
Isn't there a better way? you ask.
With the Enrollment Builders higher ed contact center solution, our clients decrease their no-show rate by an average of 16%.
EB's Enrollment Management Processes and Why They Work
Our optimized higher ed admissions cadences use a pattern of "mediums," specifically SMS, email, calls, and voicemails to create a consistent, streamlined experience for prospective students. Learn more about the importance of cadences in our article, "The High Cost of Poor Relationship Building in Admissions."
The frequency and messaging used in our appointment cadences are both timed and intentional, meant to encourage appointments, confirm attendance, set expectations, reinforce outreach efforts, and position your team as approachable.
Enrollment Builders Appointment Booking Strategy
Increasing interview completions and driving results begins the moment we start to book an appointment with the prospective student. The way we communicate with the prospective student will set the tone for the rest of the process.
When booking an appointment, our team will:
Send a text informing the prospective student to be on the lookout for an appointment.

After the text is sent, send the prospective student a calendar invite with an accompanying message about what to expect from the appointment.
At this time, our team will typically transition the responsibilities of further confirmation to your team.
When your higher ed admissions counselor is confirming an appointment, what they are really doing is fighting for the attention of a prospective student who is inundated by distractions—school, work, friends, TikTok, and so much more! This confirmation cadence better equips your admissions counselor to reach distracted prospects.
First Attempt to Confirm, Day Before
Send out a day-before email reminder to the prospect, THEN send a text message. When we do this for clients, we send these as late in the day as possible.
Sample Text: "Good evening (contact name)! This is (AC name) with The University of [Enrollment Builders]. We're scheduled to talk tomorrow at (hour with associated time zone). I'm looking forward to hearing more about you."
If the prospective student confirms, update their contact record to reflect the confirmation.
If the first attempt is unconfirmed:
Send out a morning-of reminder text.
Sample Text: "Good morning <contact name>! I will call you at <time> on the number I have for you. <phone>. If anything comes up or if you are running a bit behind, please shoot me a text here to let me know. Talk soon!"
If the prospective student confirms, update their contact record to reflect the confirmation.



This is another small but impactful change in your communication strategy with prospects that will positively impact outcomes.
Pro Tip
Set an expectation that your team calls each student at the exact appointment time. If they are not on time, make sure someone texts or calls to let them know as soon as possible.
Late or Rescheduling the Appointment
So, it happened. Your admissions counselor did everything correctly before the appointment, but the prospective student did not answer the call. Hopefully, they are just running late. Enrollment Builders has had the best results leaving a voicemail if they do not answer the call.
| | |
| --- | --- |
| Attempt 1 | Attempt 2 |
| Step One: Attempt to call the student at the exact appointment time. If there is no answer, leave a voicemail and send a text. (A sample voicemail is below.) | Step Two: Attempt to call after 5 minutes. If there is no answer, no need to leave a voicemail again. |
Attempt 1 Sample Voicemail: "Hi (student name). This is (AC name) with The University of [Enrollment Builders]. I'm calling for our scheduled admissions appointment. Does this time still work for you? You can call or text me back at this number. I'm flexible and happy to reschedule at a time that works best for you if needed. I'll call back within the next few moments to see if I can catch you. Hope to talk to you soon."
Kick off the "No-show Loop" Cadence
If there is no answer on either phone attempt, and there is no response for 10 minutes after the original call time, status the contact properly, and Enrollment Builders will immediately kick-off our "No-show Loop" on your behalf.
Next Steps
Does your admissions team need help managing and keeping appointments with students? Could your team benefit from the "No-show Loop"? If your answer is "yes," learn more about Enrollment Builders' higher ed enrollment management services.
You can also schedule a call with me to discuss your options for moving forward.
To get additional insight into your enrollment challenges, find more helpful content in our Learning Center.
Jennifer Goode