Using a Contact Center to Improve Inquiry to Application Conversion
As we travel across the country and speak with institutions about online enrollment management one of the most common challenges we see is inquiry response. While many institutions email students immediately, and some send attractive publications the next day, most do not call students in a timely manner. Sometimes it is due to the lack of human resources, an aversion to calling prospective students, or poor performance management. Regardless of the reason for not following up quickly by phone, a robust and well-managed contact center is a standard component of any highly-scaled online operation.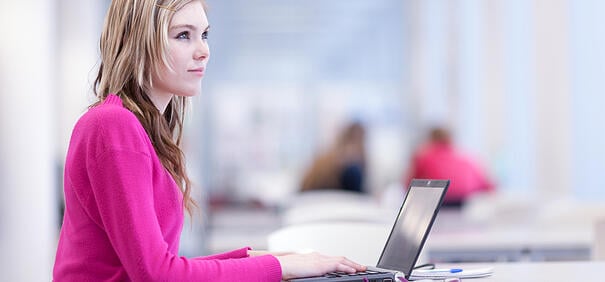 Inbound and Outbound Calls
A contact center should be equipped to handle inbound communications from prospective students as well as outbound communications to inquiries, applications, and enrolled students. While the primary mode of communication should be by telephone, the center should also be equipped to handle chat, video calls, and email communications.
Contact Center Layout and Equipment
Typically, campus-based contact centers are housed in large open areas where many employees can be supervised, coached, and led by experienced enrollment managers. Employees tend to occupy cubicles, which enable some privacy while also allowing for "groundhog" communications between employees in adjacent cubicles or proximal work areas. Each cubicle should be equipped with a personal computer workstation with an Internet connection, access to the Constituent Relationship Management (CRM) system, a Voice over Internet Protocol (VoIP) telephone connection, and a headset. Most importantly, the workstations should be equipped with an efficient telephony system.
Predictive and Preview Dialers
The telephony system should include both a predictive and a preview dialer. A predictive dialer is a tool that simultaneously dials two to four telephone numbers for each admissions representative. A preview dialer requires the admissions representative to review information about a prospective student before instructing the system to make an outbound call. The system should be compliant with Federal Communication Commission (FCC) and Federal Trade Commission (FTC) rules including the national do-not-call (DNC) list, the revised Telemarketing Sale Rule (TSR), and the revised Telephone Consumer Protection Act (TCPA). For quality control and training purposes, calls should be recorded and managers should be able to listen in on live calls.
The telephony system should be integrated with the CRM to enable the flow of data and contact histories to move seamlessly between systems. It should also include "talk tracks" or scripts and links to informational internal websites which contain important information about the various programs, features, benefits, outcomes, and admissions deadlines.
Management and Training
Managers should be encouraged to "walk the floor," listen to employees speaking with prospective students on a regular basis, and should coach employees regularly. Training should occur regularly to update employees on program changes, workflow modifications, and reminders about institutional deadlines.
Give us a call at 513-518-7824 or request information if you would like to learn more about implementing a contact center at your institution. We can help you increase your conversion rates and provide better service to your students.
Jennifer Goode