What Is a Contact Cadence and Why Should I Care?
Have you ever wondered...why do only 8% of your leads convert into students?
We spent an enormous amount of energy and resources on generating new leads for my admissions team. So what happened to the other 92% of prospective students we generated? Why didn't they enroll and what can my admissions team do to increase these conversion rates?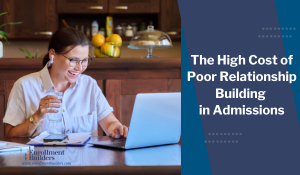 The answer is that the institution doesn't give itself a chance to build a real relationship with each prospective student in the inquiry stage. If you are focused on growing non-traditional programs built for adults, this article is for you!
Colleges and universities often rely on passive email blasts, one-off calls, and disconnected messaging to inform the prospective student about the institution. But without a consistent, systematic approach to relationship-building and establishing rapport early in the process, the "relationship" that's built is simply transactional (e.g., Apply Now! Complete your FAFSA!). This "me-centered" approach is not how you get a date or make a friend, so why would it convince a prospective student that you're the best fit for them?
Research shows that 30-50% of sales go to the vendor that responds first. That means that the relationship established first with the lead is typically the school that enrolls that student.

1
Providing each prospective student with an engaging, consistent experience is crucial to helping students through the admissions process, stabilizing your funnel, and growing enrollment at your institution.
In this article, you'll discover how cadences are critical to fixing enrollment challenges and learn how they can positively impact tuition revenue. Closing the hole in the front of the funnel is a crucial step in generating significant tuition revenue and unlocking opportunities for other operational improvements. By implementing consistent cadences with your admissions team, you can ensure that you're not missing opportunities for building deeper relationships with prospective students.
If operationalizing cadences in-house is not feasible, outsourcing to a trained and experienced team is a viable solution to achieving success.
What Is an Admissions Contact Cadence?
A contact cadence is defined as the systematic sequence of engagements or follow-ups used by an admissions representative or team to engage with prospective students.
What Does an Admissions Contact Cadence Do?
A contact cadence helps guide your admissions representatives by creating a predictable and consistent series of actions to perform for each major step in the admissions process.
Why Should You Care?
More relationships are required to generate more enrollment. Without well-defined admissions contact cadences, admissions teams are less likely to have an opportunity to activate a new relationship with a prospective student and therefore overall much less likely to enroll a student.
If resource limitations prevent an institution from reaching out and establishing new relationships with prospects early in the admissions funnel, it will cost the institution precious time and money and ultimately prevent it from reaching its potential.
Your admissions team's largest opportunity to make dramatic improvements to your admissions funnel is in the front of the funnel, where lead volume is the highest. The longer leads sit, the less likely they are to enroll.
If you call a lead in the first 5 minutes after they've submitted a web form, they're 100x more likely to get on the phone than if contact was attempted just 30 minutes later.2
Which Cadence Is the Most Critical to a High-Performing Admissions Team?
The most successful admissions teams maximize their admissions returns by building their version of an "Attempting Cadence." Enrollment research supports that the majority of your non-traditional, prospective students are lost by your team on day one, if you aren't quickly and consistently initiating outbound contact. High-performing admissions teams build their entire admissions funnel and CRM strategy around these consistent, predetermined cadences.
The Attempting Cadence: The first critical step for your admissions team.
Primary Goal: Proactively engage each new lead and begin developing authority and trust within 14 days of lead delivery. Eliminate uninterested leads quickly so you can concentrate admissions resources on interested, qualified leads.
Entry Point: A lead enters this cadence within 10 minutes of inquiring.
Exit Point: A lead leaves this cadence once they are successfully contacted or until they are "attempted" six times across 10 touch points without success.
Success Measurable: Contact rate
So Why Don't Institutions Do This?
Most colleges and universities lack several critical pieces required to execute contact cadences. The truth is, most admissions counselors weren't originally hired to make hundreds of outbound attempts to new leads, and most feel that they lack the capacity to support the work year-round. Even if they did have the capacity and desire to call thousands of leads, the team often lacks the right tools and technology required to manage the volume of leads being worked in the CRM.
Without a mature data and reporting infrastructure, enrollment management leaders can't hold team members accountable or provide the necessary coaching support to their counselors. It can be a relatively large, expensive, and time-consuming effort to mount an engaging, strategic, relationship-building cadence strategy.
As an enrollment management leader, you need to gain immediate clarity on your most viable next steps to increase enrollment. Schedule a time to talk or read on to learn more about your biggest opportunities for improvement.
Enrollment Builders is the authority in higher education contact cadences. Ready to talk about the best way to implement admissions cadences for your institution?
Schedule a time to meet with Jennifer Goode.
1 https://www.insidesales.com/sales-psychology-self-selectiong-get-there-first/
2 https://www.insidesales.com/why-timing-is-everything-when-responding-to-web-leads/
Mary Bernard