THE ULTIMATE 6-STEP GUIDE TO THE COLLEGE ADMISSIONS INTERVIEW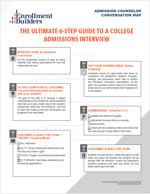 The Enrollment Builders Contact Center team has spent the last two years perfecting the remote Admissions environment so that you don't have to. We are here to help! In this time of uncertainty, prospective students are in need of deeper, more intense support than ever before.
Download this guide and work closely with your team to define how each of these steps fit the unique needs of and establish deeper connections during and after the COVID-19 crisis.