On September 20, 2012 Enrolment Builders' Founder Cam Cruickshank helped facilitate a webinar describing the findings from the 2012 Higher Education Marketing Benchmarking Report for Not-for-Profit Schools, commissioned by CUnet. There were over 150 participants, much discussion and many questions about marketing for online programs. This blog post is for those folks who missed it or would like to learn more.
The report identified four important trends:
Trend 1 - Traditional marketing methods are no longer enough.
Gone are the days when schools could rely solely on direct mail campaigns and print advertising to achieve their enrollment goals. Most schools agree that traditional recruitment marketing methods alone are no longer enough, and they are eagerly exploring new online methods of reaching potential students.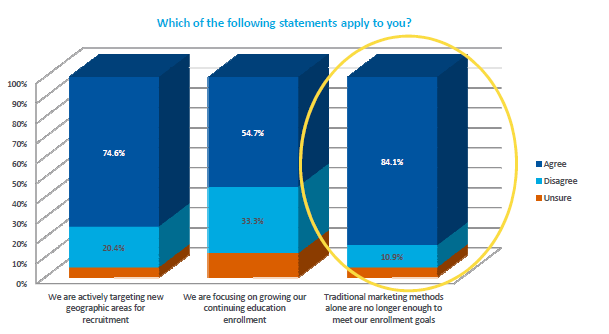 This finding is consistent with what Enrollment Builders experiences with prospective and current clients. Many institutions have been dealing with flat enrollments and need to find other ways to generate awareness, pique student interest and acquire high quality inquiries. In fact, a few of our current clients are in the midst of launching National marketing campaigns to reach out to new markets. Most institutions are having difficulty justifying continued advertising spend in traditional media such as print, radio, and billboards since it is very difficult to connect the dots between marketing spend and enrolled students using traditional marketing strategies.
Trend 2 - There is room for growth in online program enrollment.
The majority of survey respondents reported low to nonexistent online enrollment, yet it is widely known that there is an industry-wide focus on expanding online programs. With both for-profit and traditional schools scrambling to increase their online offerings, it seems that competition for online students is higher than ever. The combination of relatively low enrollment and increased competition is forcing schools to get creative when it comes to marketing their online programs.
Trend 3 - Schools are investing heavily in online marketing.
These days, schools are devoting more of their marketing budget to online marketing tactics like email marketing and targeted display advertising. These are uncharted waters for some recruitment marketers, prompting many to turn to external agencies and digital marketing experts for help.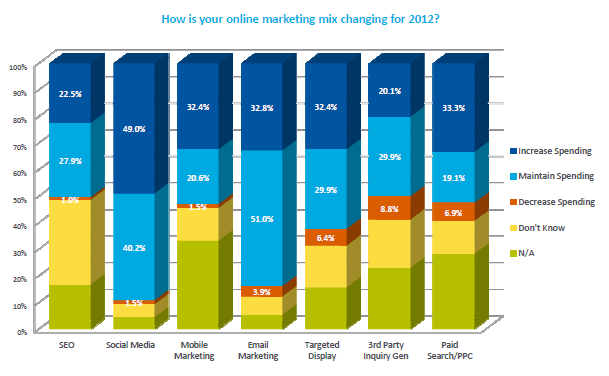 What we see in our practice is that many institutions are jumping into Paid Search with both feet. While the for-profits have been using this technique for years, the non-profits are just getting started.
Enrollment Builders would assert that more institutions should be making investments in a better institutional website and search engine optimization (or SEO). There are huge opportunities to generate lots of high quality organic, or self-initiated leads, with a good website and a 'sticky inquiry form'.
Re-targeting is also a hot topic right now in our practice, with many schools implementing both site retargeting and search retargeting. Finally, Pay Per Lead (PPL) is still an important component of any online program marketing mix.
In general, schools are struggling to keep up with the increasing level of complexity and sophistication in online marketing. Institutions usually do not have many internal resources with experience in:
Keyword bidding
Media planning
Lead scrubbing
Marketing Management Reports
Online creative assets
Web development for online forms and microsites
Data integration
Stated differently, while many institutions have marketing professionals with experience in traditional media, few have individuals with experience in online media. This disconnect between the need for online marketing know-how and the lack of internal resources with these skills is forcing many institutions to fall behind or look outside their organization for assistance.
Trend 4 - Getting quality students into seats (or fingers on keyboards) and keeping them there is a top priority.
Recruitment marketing priorities have shifted at higher education institutions; it is no longer enough to focus on attracting and admitting a large number of students. More than ever, schools are equally interested in increasing enrollment, retention, and graduation rates. Getting the right students enrolled and setting them up for success is vital in today's extremely competitive environment.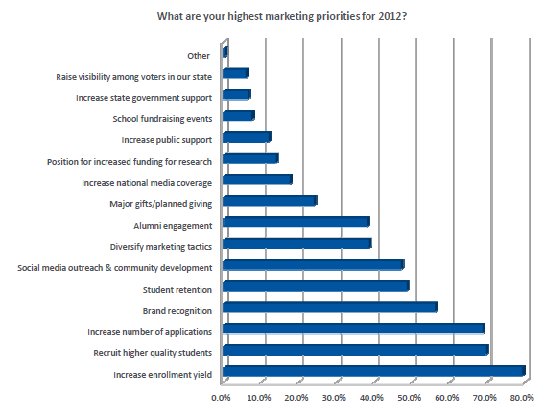 Yes, unfortunately, the priority is still getting "fingers on keyboards". What we see from our clients as the biggest priorities are:
Increased lead (or inquiry) volume.
Diversification of marketing channels.
Casting a broader net and a move to a broader audience.
Certainly higher education is being scrutinized and focus is shifting to outcomes and student success. This translates into institutions emphasizing fit and high quality inquiries more than in the past. Therefore, there are more conversations and interactions to verify intent, fit, and student motivation.
Give us a call at 513-518-7824 or request information if you would like to learn more about how Enrollment Builders may be able to help your institution with online marketing.